Agnes of the White Slopes
Agnes is a friendly, cuddly dog who enjoys spending time with her best friends, our cat Matysek and her owner Pavla.

She was born on July 20th, 2007 to theparents Dorian Aiaskim and Arja from Amundsen's friends along with four other puppies. Although all the puppies were cute, it was obvious to us that Arwen (Agnes'name at birth) was the puppy for us.

You can see a picture of Agnes with her siblings in the gallery. She is the one with the redribbon.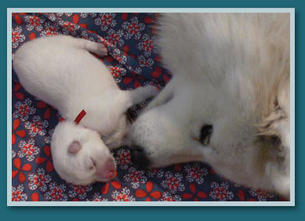 Agnes is listed as a Samoyed in the official Czech Canine Registry. She currently weighs 56 pounds andtypically eats Purina, Brit
or Eucanuba.

Agnes' hobbyis canine therapy. Wecurrently volunteer in the Department ofChild Psychiatry at Motol Hospital. You can find out more about this byclicking on the canine therapy tab.